The Bran Castle is sited at the entrance to the Rucăr - Bran passage, on the road connecting Braşov to Câmpulung, overtowered by the peaks of the Bucegi and the Piatra Craiului Mountains. Bran is less than 30 km far from Braşov, when following the national route 73, which leaves Braşov by its West end, through the Bartolomeu district. The distance to Bucharest is of less than 200 km.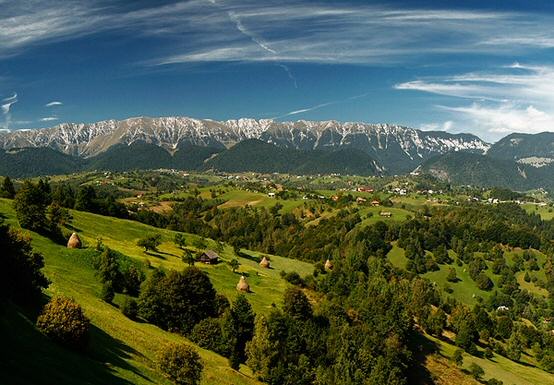 Due to its lovely landscape and charming people, Bran-Moeciu is one of the most popular touristic areas in Brasov County and the ideal place to spend a great week-end or your holidays.
One can say that nature has been generous with this area because it is surrounded by the impressive silhouettes of the massifs Bucegi and Piatra Craiului, two of the most important elements in the Romanian mountainous touristic scenery. The landscape from this area is a harmonious mixture of different landforms (high mountains, plateaus, the curvy shapes carved by the rivers along their banks and the valleys that cross the land, shaped by the rich hydrographic network).
Address: Str. General Traian Mosoiu, nr. 24, Bran, Romania | GPS coordinates: N 45.515178°, E 25.367044°
Getting here by...
Bucharest - Bran (route DN1/E60 160Km, 2.5 hours driving time)

View Larger Map

From Bucharest, head north on DN1/E60, pass by Ploiesti, continue to follow DN1/E60, after Azuga turn left on DN73A, at Rasnov turn left onto DN73/E574, drive 10KMs and Bran Castle will be on the left.

Brasov - Bran (route DN73/E574 30Km, 35 mins driving time)

View Larger Map

From Brasov, head northwest to Rasnov on DN73/E574, continue straight to Bran, castle will be on the left.

Bucharest - Brasov ( via Romanian Railways (CFR), 170Km, 3.5 hours)

Train From: Bucharest Nord Gara A
Train To: Brasov
Duration: Approx 3hrs 25min
Frequency: Hourly
Line: (CFR) Intercity, Regional
Fare: Approx €10 (40Lei)
Schedules: www.infofer.ro

The access by train is possible only up to Brasov. From Brasov you can transfer to bus service or pick-up the taxi service. More details in the Bus/Taxi tabs.

View Larger Map

Brasov - Bran (route DN73/E574 30Km, 45 mins trip time)

Bus terminal No. 2 Brasov, provides regular rides between Brasov and Bran - Moeciu and return trips, with departures at every 30min, and at every hour during weekends.

Duration:

Approx 45min

Frequency:

30min week days, 1hr weekends

Fare:

Approx €1.5 (7 Lei) /ride

Schedules:

+4 0268-426-332

Location: N 45.663423°, E25.583103°

View Larger Map

Bucharest - Bran (route DN1/E60 160Km, 2.5 hours driving time)

A ride to Bran Castle from Bucharest, takes about 2.5hrs drive. At Otopeni-Bucharest Airport there is a taxi station right in front of the international arrivals.

Telephone: 021-9494, 021-9444, 021-9477, 021-9488
Fare: Approx €80 (350 lei)/ride

Brasov - Bran (route DN73/E574 30Km, 35 mins driving time)

City of Brasov has a few respectable taxi companies. However, we would suggest you pick an English-speaking driver, you discuss about the price prior to departure and you keep in mind that the average cost should be 100 – 120 lei.

International flights to Bucharest:

Frankfurt-Bucharest : 2hrs 15min Schedules
Rome-Bucharest: 2hrs 5min Schedules
Paris-Bucharest: 2hrs 50min Schedules
London-Bucharest: 3hrs 10min Schedules
Madrid-Bucharest: 3hrs 35min Schedules
New York-Bucharest: 11hrs 15min Schedules


Bucharest Airport to Bran Castle:

Brasov-Ghimbav airport is under construction. From Bucharest airport to Bran, please follow the instructions in the Train / Taxi sections. Alternatively, you can plan your trip here.